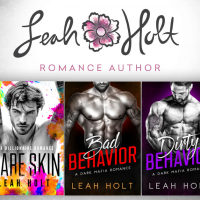 Leah Holt
Contemporary Romance, New Adult Romance, Romance, Dark Romance & Erotica
Growing up in a small town, my imagination was able to run wild. I love to write romance that is always bad and always dirty.
Having three children of my own, life is filled with far too many cartoons and not enough bad boys.
Writing has become an outlet for me to let out all of the dirty, forbidden thoughts inside of my head.
I have been lucky to have had so much support from my family, friends, and readers to keep on writing.
Recommended Featured Books
"Dreaming permits each and every one of us to be quietly and safely insane every night. "